Iyashi Scalar Energy Bracelets
Iyashi® Scalar Energy Bracelet

Optimize your life in style

Iyashi® Scalar Energy Bracelets combine our proprietary full spectrum scalar energy infusion with the beneficial far-infrared energy naturally produced by the tourmaline/ crystal ceramic material Iyashi® Scalar Energy Bracelets are made of. Iyashi® Scalar Energy Bracelets are the perfect combination of subtle scalar energy and far infrared energy to help your body's energetic systems including; harmonizing your bio-field, protecting from EMFs, providing far-infrared benefits, clearing energy blockages and much more.
Iyashi® Scalar Energy Bracelet Features & Benefits
Infused using Biometric Frequency Infusion Technology (B.F.I.T.). Infuses a full spectrum of over 18000+ beneficial vibrational frequencies.
Iyashi® Ceramic's unique composition of tourmaline and other crystals such as germanium provide continuous far-infrared benefits.
Strengthens Aura
Clears energy blockages
Entire body zero point field repair
Strengthens Bio-field
Repairs and helps fight EMF damage
Overall increase in energy, alertness and clarity
How Iyashi® Scalar Energy Bracelet Are Made
All Iyashi® Scalar Energy Bracelets made from a combination of tourmaline, crystal ceramics, and other crystals and clays to give them their color. A unique fusion process is used which involves heating these materials to over 3000F degrees and then cooling them to a solid, this process has to be repeated 9 times to create our Iyashi® Scalar Energy Bracelet. After this our bracelets are then infused using BFIT, programming them with a full spectrum of beneficial subtle energy frequencies. These subtle energy frequencies use scalar energy which delivers them to your entire body.

What is BFIT (Biometric Frequency Infusion Technology)
BFIT, a quantum infusion technology, is the key behind the many years of success of all Iyashi® products. Iyashi's® BFIT process (which stands for "Biometric Frequency Infusion Technology) involves each Iyashi® Scalar Energy Bracelet going through an individual infusing process. A trained Vibrascan technician then tests each bracelet individually to ensure the energetic patterns have been properly infused, and the ionic output is precise. The Iyashi® Scalar Energy Bracelet is the only scalar bracelet to bring your zero-point energy field back into phase lock. It is ideal to always keep your energy field connected to the zero point field. You are born connected (phase-locked) to the zero point field and it is through accident, emotional upsets, or aggressive energetic interventions into your field that the connection is disturbed or broken in an area of your energetic field. Using BFIT infused energy products will help harmonize your innate connection to source, instructing your innate wisdom how to harmonize your bio-field.
What is Biometric Frequency Infusion Technology?
What Is BFIT?
Individual Batches
Iyashi® wands, bracelets and pendants go through small-batch infusion processes in order to ensure optimum quality and effectiveness. We cannot show you our proprietary BFIT and its process but once the product is cleaned, it is put through a very specific infusion process under very precise conditions. Once each product is infused, it moves on to the Vibrascan testing to ensure the product meets our high standards of efficiency and effectiveness.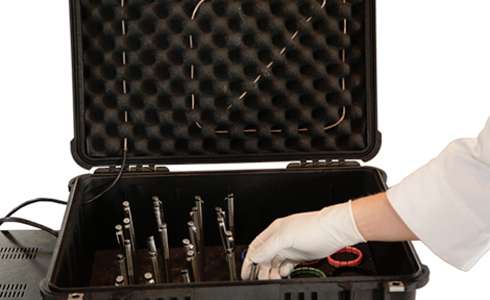 BFIT Infusion
We have spent thousands of hours developing the energy signatures found in our wands, pendants, and bracelets. Our unique full-spectrum technology emits thousands of unique subtle energy frequencies that the bio-field recognizes and responds tos. These subtle energy patterns are made from thousands of individual frequencies which relate to different parts of the bio-field. After our wands have been infused, each is individually tested on a VibraScan1100 by a trained technician to ensure their energy levels are absolutely correct.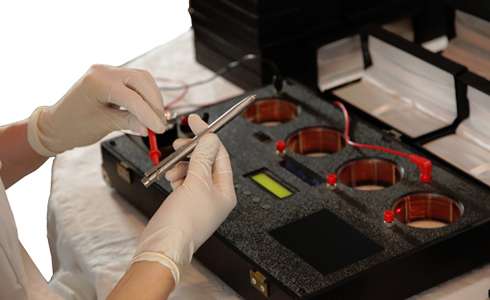 VibraScan 1100 Testing
Medical gloves are worn during the entire testing process to minimize subtle energy passage from the technician into the Iyashi® products. The Iyashi products are finely tuned energetic instruments which are highly responsive when close to or in contact with someone. We keep our Iyashi® EMF Protection stones in the testing room during the testing process to eliminate any EMF and other subtle energy contamination, and ensure the wands maintain their correct calibration during the infusion process.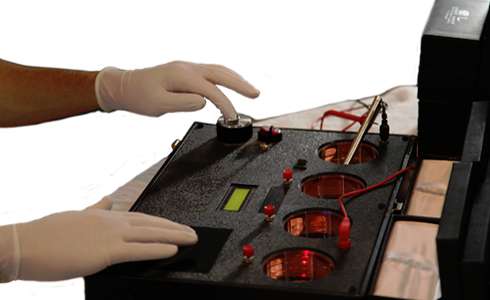 Certification
Once each Iyashi® Bracelet is tested, it is placed in its own box with an authenticity card. Products are sent to our fulfillment house centers in White Rock BC, Canada and Blaine Washington, USA to be shipped to you.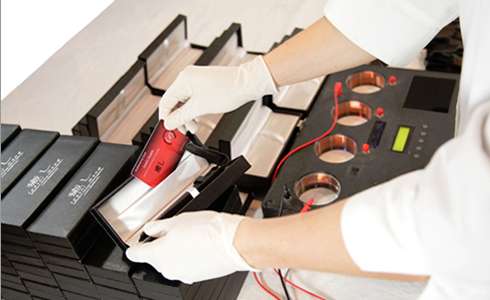 Quality And Value Of The Iyashi® Scalar Energy Bracelet
Iyashi® Scalar Energy Bracelet are only made of quality materials such as tourmaline, crystal ceramics, other crystals and some clay ceramics. This gives the bracelets their far-infrared energy. The Iyashi® Scalar Energy Bracelet are then infused using BFIT which provides a full spectrum beneficial subtle energy frequencies. These subtle energy frequencies use scalar waves to heal your energetic body. Our bracelets combine these technologies allowing them to work on multiple levels compared to other bracelets.
The list of technologies in the Iyashi® Scalar Energy Bracelet are as follow
Far-Infrared Energy. Other bracelets commonly use some germanium and tourmaline embedded in them. Our Iyashi® Scalar Energy Bracelet use both these minerals to produce the far-infrared energy.
Scalar Bracelet. Our bracelets use our propriety BFIT infusion which programs the bracelet with over 18000+ beneficial frequencies. This is widest spectrum of beneficial frequencies available in any scalar bracelet.
The Iyashi bracelets combines the technologies of 3 other different types of energy bracelets together to create the best negative ion scalar bracelet.
Safe and Tested
About 99% of other bracelets sold at cheap prices are made in China! You will notice all these other bracelets look very similar usually a silicon wrist bands. Iyashi® Scalar Energy Bracelet are unique and made in South Korea and then we infuse them in Canada which is why there are almost no similar bracelets available.
100% guarantee
We guarantee that you will be satisfied with your Iyashi® Scalar Energy Bracelet. As with all Iyashi® products, the Iyashi® Scalar Energy Bracelet comes with a fully comprehensive product guarantee. We also provide a 30-day money back guarantee policy; if you are not happy with your bracelet, just send it back and we will refund the cost of your bracelet in full. We guarantee all bracelets are shipped free of defects, and we offer a 1-week no questions asked replacement period if you find that your bracelet has been scuffed, dinted, or damaged.
Testimonials
Iyashi Source products are some of the most highly regarded in the industry and because of that we receive hundreds of positive testimonials. Below are real testimonials from real people that include Doctors, health professionals and many others.
I have bought several health tools from IyashiSource.com or allied websites. Each item bought has built trust in their products to take the leap to buy another.
First, the Iyashi Wand works profoundly better than the cheap imitation I had been using. The Iyashi Wand is much more effective and with much less effort than other wands. I had a few cuts on my hands that were not healing no matter what I tried. I am happy to say those difficult to heal cuts that lingered for weeks healed in a few days. It also eliminated a pain of 40 years in the left shoulder from a motorcycle accident when I broke my collarbone; the pain disappeared after wanding twice a day for about a week.
Second, I bought the full Itsu Sync set with pro headphones. I never spent more than $20 before on headphones in my life! Nevertheless, I had a nagging feeling I needed the full Itsu Sync program. Itsu Sync offered what I needed as a 63 year old studying for an accounting degree at an online university while taking care of my Mom at home. She has dementia. I wondered, am I going the same route as her? Itsu Sync is actually less expensive than its many competitors. Well, after about a week I notice clearer thinking, better memory, and sounder sleep. Somehow I believe it also healed lingering effects from a severe concussion received in a car accident 12 years ago. I haven't missed a 15 minute session since I started it 3 weeks ago. I love the music! I think I am addicted to it - but not really, I just want to keep it up.
Next, I bought the blue Iyashi Bracelet. I have tried but never bought other ceramic/crystal beads that cost $300 or more that are worn around the neck. The Iyashi Bracelet is simply better. I feel the joy of using it like no other. I believe I need to get use to it as the detoxing can be quite strong. First day 4 hours then add 2 hours every day until I can wear it all day. I am usually sensitive to energies so this is not unusual for me.
Today, I ordered the Cerra Water pitcher with extra filters. Having read Dr. Batmanghelidj's book, Your Body's Many Cries for Water, I know how important water is to the body. Itsu sells great stuff but also demonstrates integrity that is all too rare these days because their products have done what they say it does and does it exceptionally well.
Thanks,
by Sam
Just wanted to drop a note that I am so grateful you make your very powerful products affordable.
On top of having pendents "disappear out of thin air" after placing them on the ground, I live in a dorm that recently had some theft occur. They took my iyashi products, also but I am relieved to know it's a great product that can easily be replaced at a reasonable price. It's not the end of the world..
Priceless protection too.
Wonderful company and I hope it continues to grow.
by Emily M
I also wanted to let you know that I purchased the Shieldite necklaces and Iyashi bracelets for both my daughter and myself for Christmas. We both are feeling SO MUCH better! We both work around computers all day. I will be referring my clients to you!
Thanks so much!
by Laura J
I have noticed a big difference since wearing the Iyashi bracelet, but even more so when I hold it in my hand where there are more nerve endings. I would recommend whenever you have the opportunity, to hold the bracelet in your hand, and I feel increased levels of alertness and you can sense the electrical connections in your body are faster as a result.
Thanks

Eve Livaditis
Social Worker, 16 + Service (formerly Leaving Care Team)
Family Services and Social Work
Children Schools and Families
London Borough of Camden


Hi, I ordered the bracelet and sheildite special, and I LOVE them!!!
by Judi W
My yellow bracelet arrived in the post today and it looks great!
by Leo Hunt
Have just received my blue iyashi bracelet.
It is beautiful.
by Margaret M.
Love my bracelet by the way!
by Melixa M
I recently purchased a bracelet and a pendant. They both work awesomely!
by Chris S
I bought Iyashi bracelet and Shildite necklace and I noticed a big difference in my health. I am extremely sensitive to EMF and I would like to know those information. I get severe anxiety and depression from EMF. And your product gave me such a relief..
Thank you !
by Airi E
I just wanted to say thank-you so much for your amazing products. I just received the Iyashi EMF protection rocks and my Iyashi bracelet 2 days ago and can already feel a difference happening.
by Jake
When I bought the braclet I could feel braclet in my hand even before I put it on, it was super strong.
by Randy T
I LOVE both the Iyashi EMF protection pendant and healing bracelet -- in fact, I had to order another pendant because I lost it after wearing it only a few days and didn't want to be without it. They have really made a difference in the way I feel! I am waiting for the under-bed block to be available, as well.
Thanks so much,
by Sue Zuriff
G'day, I recently received your bracelet and shieldite pendant, and was astounded at the results! thankyou so much. They have greatly changed my quality of life.
I have nerve damage to my lumbar spine. My nervous system is in a painful hypersensentive state which has caused many complications including electromagnetic hypersensitivity.
by Tristan B
I now have the pendant and bracelet and enjoy them both.
by Cory W
My bracelet-- a beautiful Blue Sapphire color-- arrived yesterday, and it practically flew onto my wrist. I don't every want to remove it. It's got a light, bubbly energy that, just makes me feel happy!
by FHL, New York City
"I am so grateful for you and this company. Your products have been such a HUGE benefit to my life and the quality of it,,,,I really do not know where I would be without you !!!! Do you know that I NEVER get sick with the ""bugs"" that are passed around from one person to the next? My friends are catching this one ""bug"" that blocks up their ear on the one side of their head and it lasts 4-6 weeks - they go to the doctor for antibiotics and nothing helps. I wear my bracelet all day except for when I shower and we are convinced that it has protected us from viral onslaught.....plus the energy we have because of wearing it is wonderful. I am looking forward to receiving my purple bracelet as my Rose tested it as 100% beneficial for me :) My black one came in at 75% and the pink 50%. I want her to test me for the turquoise and green as they are my other two favorites. I LOVE, LOVE , LOVE this company and the products - wish I had stock in it , for sure :)
With a grateful heart - Bonnie"
by Bonnie
I have never believed in this type of products before but one day my friend shared his Iyashi Bracelet with me because I had a large mosquito bite that was swollen up. After wearing the bracelet for an hour it was completely gone and I was in shock how well it worked. A few days later I had some deep tissue soreness in my elbow which usually lasts about a full day. Again I put the Iyashi bracelet over the affected area and within 45 minutes I pain free. The fact is this stuff works.
by Mark B
I love my Iyashi bracelet and wear it all the time. I noticed that I have more energy and need less sleep. The pain in my wrist (carpel tunnel syndrome) is almost all gone. The bracelets are also very attractive. Glad there are so many colors to choose from as I am planning on buying another one for my other wrist.
by Heather
I used to be a pretty active person. I played hockey on the weekends, had no problems getting up in the morning, and had fun staying up late all the time no problem. In the past few years, things have gotten increasingly difficult to do. I quit my amateur hockey league team, I stopped going out as much, and getting up in the morning became an ordeal. Since I've gotten this bracelet, I've noticed things improving. I've had it for about five weeks now and I feel pretty good about writing this review. I noticed a change immediately, and every week things have gotten even better. I'm actually feeling so great that I've signed up for a week-long hiking course with my family for this summer, and I've had the energy to start exercising and getting back into that hockey-ready shape that I used to be in. Anyway, this is my way of saying thanks to Iyashi for making the bracelet. I've got to say that I am really happy with it.
by Paul Losvik
Frequently Asked Questions
Q: Do I need to ground or clear the Iyashi® Scalar Energy Bracelet?
A: No... jut wear and enjoy. There is no maintenance needed to get optimal performance from the bracelet. Only the Iyashi® EMF Protection Stones needs to be grounded.
Q: How long does the Iyashi® Scalar Energy Bracelet take to work?
A: As blood passes through your wrist wearing the Iyashi® Scalar Energy Bracelet you receive all the benefits. This means you body will start experiencing results after 4-10 minutes after the blood circulates through your entire body.
Q: I don't feel anything is my Iyashi® Scalar Energy Bracelet not working?
A: Your bracelet is working fine, some people are just less sensitive then others and don't notice the subtle energy or negative ions.
Q: What is the difference between an Iyashi® Scalar Energy Bracelet and other Scalar Bracelets?
A: The Iyashi Bracelets are infused with our powerful full spectrum formula and are made from pure ceramics which have a very powerful far infrared energy. Other silicon bracelets only use a little ceramic powder or have a single hologram.
Q: Are your products radioactive?
A: No, our scalar energy products are crystal based and are not radioactive. Some knock offs and other imitation scalar energy products contain minerals with naturally occurring radiation which they try to pass off as scalar energy. Real scalar energy products like ours are crystal based infused with scalar energy using an infusion technology like our propriety BFIT.
Q: Do scalar bracelets protect me against EMFs?
A: Scalar bracelets provide some protection against EMFs but not full protection. They strengthen your bio-field making you more resilient to EMFs. By strengthening your bio-field you are more resilient to the EMFs
Q: Can I wear the Iyashi® Scalar Energy Bracelet in the shower or pool.
A: Yes you can as it won't damage the infused energies or ionic output. Although high chlorinated water can degrade the elastic which keeps the bracelets held together.
Q: My bracelet feels too big.
A: Some people prefer to wear their bracelets 3-4 inches above my wrist ( a couple of sizes bigger) so it is out of the way for working on the computer and washing hands etc. As long as it is touching the skin you are absorbing the negative ions and getting full benefit. You can resize your bracelet using the instructions below or send it back for an exchange of a smaller size
Q: My bracelet broke, what can I do?
A: It is very easy to restring the bracelets. You can purchase a whole roll of special string for less than $5. It's called "stretch magic 1mm cord.: Found at arts and craft stores ( Michaels etc ) or on Amazon. Just restring the bracelet just tie a double knot and run thru the string on one aside. Tie a knot again - side bead over the knot. Repeat for side 2.
Q: Can I wear the Iyashi® Scalar Energy Bracelet when I sleep?
A: Yes you can although some people find it gives them too much energy which makes it hard to fall asleep.