If you have any other wand you purchased elsewhere which you find does not work you can trade it in for credit towards a fully tested Iyashi Wand. We accept the following Amounts for the different wands;
Black Tip Amega AmWand: $100 credit
Classic Amega AmWand: $75 credit
Infinity Wand: $50 credit
Any Other Wand or non logoed wand: $20 credit
How to identify if it is a real Amega AmWand
There are other wands that try to imitate the Amega AmWand we offer the $100 trade in trade for. The below pictures will show the differences.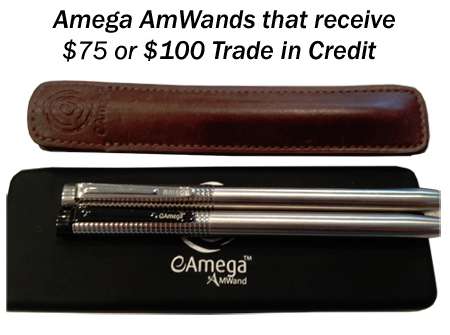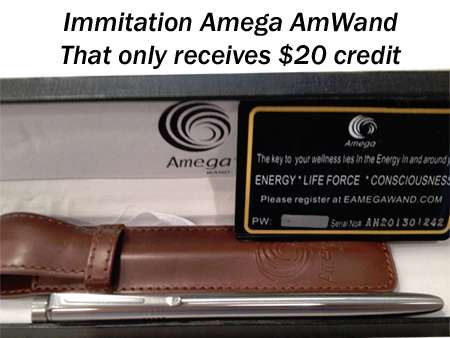 The 2 wands in the left picture are authentic amega wands which we offer $75 - $100 credit for. There are 2 different versions of their standard Amega AmWand and BlacfkTip Amega AmWand. They are regularly purchased from anywhere in between $135-$350. Depending on when the wand was purchased it may have a slightly different case but will be about the same size, there are also several variations of the imitation leather pouch. The Amega AmWand was originally distrusted by Eamega but has now changed their name to Myamwellness but is the same product.
The imitation on the right is put out a company called EHM who uses the brand awareness of Amega to sell their wand for approximately $40. They have used the companies old style logos on their product and even use the authentic Amega AmWands old videos on their site. It should be very easy to identify this wand as the only design of it is in the above picture. This wand we only offer $20 trade in credit for.
There are a large variety of other wands that have come and gone over the years which we also will take as trade in. They come under many different names and have a large variety of logos or do not have any logos. Because of the large variety in price and difficultly to identify other companies wands without logos we offer $20 credit for any other type of wand.


Please include any additions such as the box or wand sleeve, this will help us verify what type of wand it is.
How to send in your trade in wand
To use this offer mail your Amega wand to:
Innovative Ionizing Technologies Inc.
PO BOX 75087
White Rock, BC, V4A0B1
Canada

How you receive the discount.
1) Send in your amega wand, including your name and contact information. When you put your Amega Wand in the mail, go to www.iyashisource.com and open an account if you don't already have one. This entails you putting in your contact information and saving it on our website. Once we receive your wand, the credit will be issued to your customer profile which you can use during checkout. This process may take 2-3 weeks for us to receive your wand and issue you the credit.
If you would like your new iyashi wand immediately you can follow option 2.
2)You can pay full price now and then mail your amega wand to us. When we receive your amega wand we will issue a refund for the discount. You will receive this in same format as your original payment method.
Please include a copy of your invoice when you send in your wand so we can verify that it is yours.
*This offer cannot be combined with any other sales or discounts.
*All trade ins are final, no returns of trade in wands.