At Iyashi Source we offer a trade in program which allows customers to trade in their Amega AmWand or other zero point energy wand for credit towards an Iyashi Zero Point Energy Wand. This is a great option if the wand has already been purchased and you are unable to return it. This makes it a lot more affordable to upgrade to an Iyashi Wand. We offer $100 for any type of authentic Amega Wand and $20 for all other types of wands. One issue has arisen lately is there are now "imitation Amega wands" selling for $40 on ebay, amazon and other sites. These wands are designed to look like the original amega amwand and deceive people that they are getting a wand which normally sells for $135-$350 for only $40.
How to Tell if Your Amega Wand is Fake
Once you know what to look for it will be very easy identifying a fake amega wand. If you look in the pictures below you will see what each wand looks like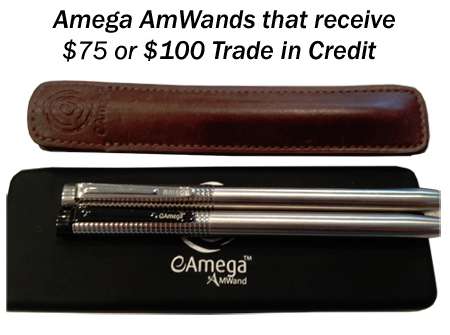 Authentic EAmega Wands come in 3 types standard and black tip which are shown in the photo and pro which has different attachment ends. You will find an amega stamp on the clip, a stamp on the butt along with the serial number on the butt of the wand. The case is the same size of the wand and will carry a logo which says EAmega AmWand. The imitation leather sleeve will also be an open end without a cover.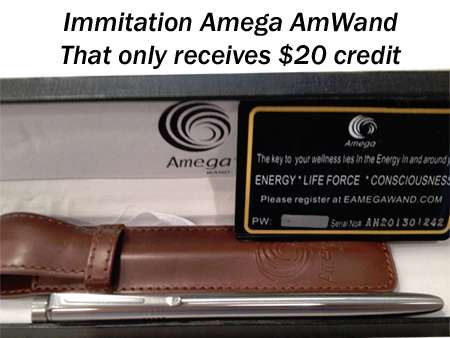 The imitation amega wand will just say "Amega Wand" with their own unique logo. It only have a amega stamp on the clip along with the serial number on the side of the wand. The case is quite oversize and the card that comes with it is made of plastic.
The original company selling the amega wand has had quite a bit of brand confusion which is why there are these imitation out there. People know the wand as the "amega wand" when in actual fact they are the EAmega AmWand although almost all their literature and logo they call themselves the Amega Wand.
In the video below I show the differences in the wand structure, logos, sleeve, and case. Hopefully this will allow you to identify if you actually have an authentic Amega AmWand or you have a imitation.
I will also point out these imitation Amega wands are very poor quality. Half the ones we have received were leaking yellow powder from their caps as they were not fastened on correctly.
Trade in For Iyashi Wand
Once you determine what type of wand you have you can feel free to trade it in for credit towards an Iyashi wand. Remember authentic Amega AmWands will receive $100 credit where any other type of wand will receive a $20 credit. Remember we accept any other type of zero point energy wand for a credit of $20 towards an Iyashi Wand